2022 Mitsubishi Outlander vs 2022 Nissan Pathfinder
2022 Mitsubishi Outlander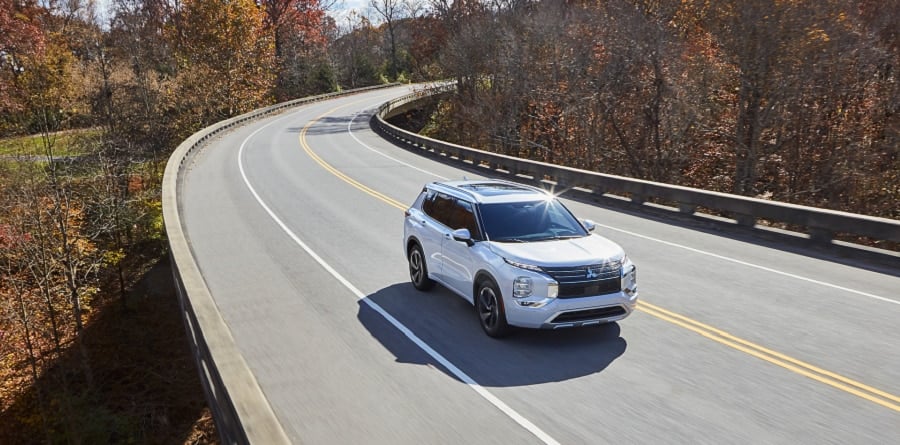 2022 Nissan Pathfinder
2022 Mitsubishi Outlander vs. 2022 Nissan Pathfinder Overview
The latest Mitsubishi Outlander joins a segment with plenty of competition in its new model year, and we're thrilled to report it separates itself from the pack in all the right ways. This new Mitsubishi SUV hits the market with jaw-dropping looks, reliable performance, and plenty of safety technology for a comfortable and stress-free experience, and we've decided to see how the 2022 Outlander fares against the rival Nissan Pathfinder. If you're based in Charlottetown, Kensington, Souris, Montague, or Summerside, Prince Edward Island, find out how the new Mitsubishi Outlander bests the 2022 Pathfinder below, and feel free to contact us at Charlottetown Mitsubishi for further details.
Compare: Interior & Exterior Design
The 2022 Mitsubishi Outlander hits the market with an aesthetic that turns heads everywhere it goes. While the rival Nissan Pathfinder boasts a newly redesigned, boxy exterior of its own, the new Outlander gets the nod thanks to its stylish bodywork, bold grille, and lighting arrangements that look like something out of the future. This beloved Mitsubishi SUV also offers several sleek alloy wheel designs - including a two-tone set - as well as eight available body colours for those who love personalizing their new ride.
On the inside, the 2022 Outlander looks just as attractive, with ample room across three rows of seating and an abundance of quality materials and accents. The new Nissan Pathfinder may have gone for a more truck-like layout, but our new Mitsubishi SUV's interior strikes a perfect balance between refinement, comfort, and practicality. In addition to its class-competitive cargo capacity, the 2022 Outlander offers plenty of available comforts throughout its lineup, from heated front and rear seats to leather upholstery to a heated leather-wrapped steering wheel. In other words, the new Pathfinder's revamped interior may be easy on the eyes, but the 2022 Mitsubishi Outlander's interior has it all.
2022 Mitsubishi Outlander - Exterior
2022 Mitsubishi Outlander - Interior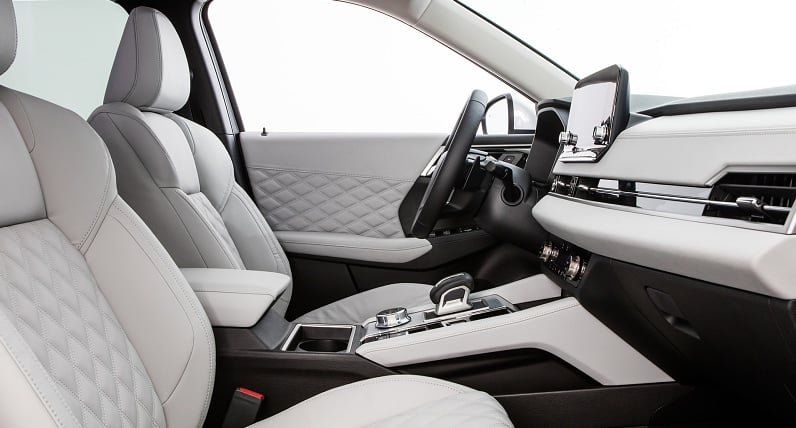 Compare: Performance & Fuel Economy
The new Mitsubishi Outlander's performance begins with a 2.5-litre four-cylinder engine with 181 horsepower that works in tandem with a smooth continuously variable transmission. This SUV also comes with a lauded Super All-Wheel Control system and a drive mode selector allowing you to adjust your drive to various surfaces for a stress-free experience at the wheel. Furthermore, the 2022 Outlander boasts nicely weighted steering, athletic handling, and an excellent combined fuel economy of 8.9 L/100km. The new Nissan Pathfinder, by comparison, trails the Outlander with a combined fuel efficiency of 10.5 L/100km, and while its 3.5-litre V6 engine packs solid power, this SUV remains marred by sluggish handling and steering.
Compare: Safety Features
The 2022 Mitsubishi Outlander not only boasts excellent safety and crash-test ratings, it also comes with plenty of driver-assist technology to help you stay out of harm's way. The latest Nissan Pathfinder may offer a respectable safety suite of its own, but the 2022 Outlander gets the nod with standard Forward Collision Mitigation, Blind Spot Warning, Lane Departure Warning, and Rear Automatic Emergency Braking functions. This Mitsubishi SUV also offers the popular MI-PILOT Assist suite in its upper trims, with the package including Adaptive Cruise Control, Traffic Sign Recognition, and Lane Keeping Assist for comfortable and confident driving.
Mitsubishi Warranty
With your purchase of any model from our star-studded new inventory, you'll have the comfort of knowing your Mitsubishi is protected for the long term thanks to the comprehensive 10-5-5 Warranty plan. In addition to a New Vehicle Limited Warranty lasting five years or 100,000 km - whichever comes first - this extensive package also covers your powertrain for up to 10 years or 160,000 km. Rounding out the 10-5-5 plan is five years of complimentary Roadside Assistance with no mileage limit, providing you with all the help you'll need if ever you're in a jam. Contact Charlottetown Mitsubishi today for more on how this warranty coverage can thoroughly protect your new Mitsubishi.
2022 Mitsubishi Outlander Inventory in Charlottetown, PE