2022 Mitsubishi Outlander vs 2022 Kia Telluride
2022 Mitsubishi Outlander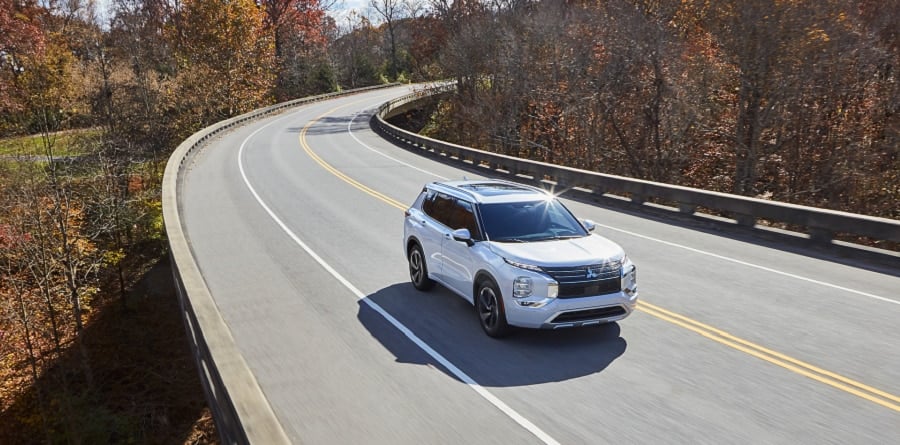 2022 Kia Telluride
2022 Mitsubishi Outlander vs 2022 Kia Telluride
Are you in the market for a quality new crossover SUV with a roomy, upscale cabin, desirable standard and available features, and an enjoyable driving experience? Then you might've come across the 2022 Mitsubishi Outlander and the 2022 Kia Telluride. But how do they compare? Keep reading to learn more about these impressive crossover SUVs and see why the 2022 Mitsubishi Outlander is a worthy competitor. Then, browse our new inventory to find pricing and availability for the 2022 Outlander at Charlottetown Mitsubishi in Prince Edward Island.
2022 Mitsubishi Outlander vs 2022 Kia Telluride Performance
The Outlander comes standard across all trim levels with a 2.5-litre four-cylinder engine that produces 181 horsepower and 181 lb-ft of torque. The engine is paired with a continuously variable transmission (CVT) and comes standard with the sought-after state-of-the-art Super All-Wheel Control (S-AWC) technology. S-AWC immediately senses driving conditions and adjusts the power to all four wheels with quick precision. Enjoy reliable and stable handling with six fully integrated driving modes, including Eco, Normal, Snow, Gravel, Tarmac, and Mud.
The Kia Telluride is built with a 3.8-litre V6 engine that produces 291 horsepower and 262 lb-ft of torque. The engine is paired with an eight-speed automatic transmission and comes standard with front-wheel drive. Even though the Telluride offers more horsepower and torque, the Outlander's standard Super All-Wheel Control technology delivers an unmatched driving experience. Furthermore, the Outlander provides better fuel economy, with 9.7 L/100 km in the city and 7.9 on the highway, while the Telluride provides 12.7 L/100 km in the city and 9.7 L/100 km on the highway.
2022 Mitsubishi Outlander - Exterior
2022 Mitsubishi Outlander - Interior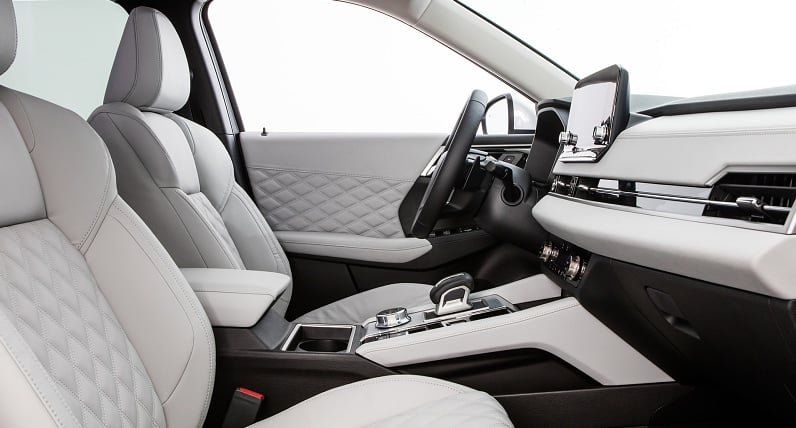 2022 Mitsubishi Outlander vs 2022 Kia Telluride Exterior
The all-new Mitsubishi Outlander sports a distinctively modern exterior design that is sure to turn heads. Available in seven stunning colours, the Outlander offers drivers desirable features combined with stylish touches such as sharp lines and a flat roofline. Enjoy standard features such as automatic LED headlamps, heated power side-view mirrors, rear privacy glass, a rear spoiler, and 18-inch alloy wheels. Premium features include LED fog lamps, a panoramic sunroof, a hands-free power liftgate, and 20-inch alloy wheels.
The 2022 Kia Telluride has a bold exterior design, but it is not as distinctive or attention-grabbing as the Outlander. It is offered in eight colour options, but many are muted or dark tones, with no red or blue options like the Outlander has. Otherwise, the Kia comes with most of the exterior features offered on the Outlander.
2022 Mitsubishi Outlander vs 2022 Kia Telluride Interior
The interior of the Mitsubishi Outlander is redesigned for 2022, adding many upscale features for a luxurious look and feel. With an unmistakably Mitsubishi design, enjoy distinctive design details like the horizontal axis of the dashboard and a minimalistic yet modern look. Feature-wise, the Outlander offers seven-passenger seating, heated front and rear seats, tri-zone automatic climate control, quilted leather seats, a heated leather-wrapped steering wheel, and a 9-inch smartphone link display audio system with Apple CarPlay, Android Auto, Bluetooth, Navigation, SiriusXM, and a Bose premium audio system.
The 2022 Kia Telluride offers similar features to the Outlander but at a higher starting price.
2022 Mitsubishi Outlander vs 2022 Kia Telluride Safety
For those that value a comprehensive list of safety features, the Outlander is right for you. The 2022 Mitsubishi Outlander promotes confidence and peace of mind wherever you go with its abundance of standard safety features. Enjoy features on the Outlander that the Kia Telluride doesn't offer, such as brake assist, a brake override system, trailer stability assist, and rear automatic emergency braking. Safety features that both vehicles share include blind-spot warning, active stability control, traction control logic, forward collision mitigation, rear parking sensors, hill-assist control, lane departure warning, lane change assist, driver attention alert, rear cross-traffic alert, and available adaptive cruise control.
Mitsubishi Warranty
Not only will the Outlander's impressive safety features and standard Super All-Wheel Control technology promote peace of mind, but our comprehensive warranty package will add that extra confidence while on the road. At Charlottetown Mitsubishi, we are proud to offer all new Mitsubishi buyers our complete 10-5-5 Warranty package. Be confident in your Mitsubishi's quality, reliability, and durability with 10 years (or 160,000 kilometres - whichever comes first) of Powertrain Limited Warranty, five years (or 100,000 kilometres) of New Vehicle Limited Warranty, and five years of roadside assistance with no mileage cap. Contact us today to learn more about the 2022 Mitsubishi Outlander or our comprehensive warranty.
2022 Mitsubishi Outlander Inventory in Charlottetown, PE