2022 Mitsubishi Outlander vs 2021 Toyota RAV4
2022 Mitsubishi Outlander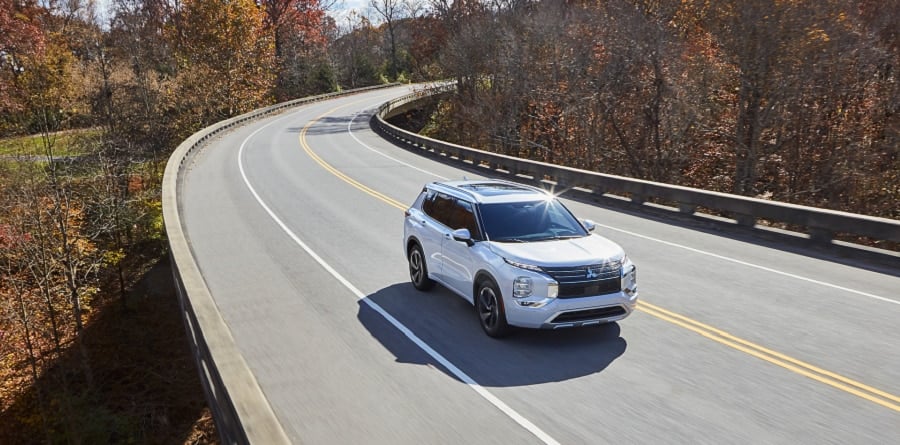 2021 Toyota RAV4
2022 Mitsubishi Outlander vs. 2021 Toyota RAV4
The Mitsubishi Outlander and Toyota RAV4 have long been among the most beloved crossovers on the market, and we at Charlottetown Mitsubishi thought it only natural to compare the two staples. As the go-to source for all things Mitsubishi in Charlottetown and the surrounding areas of Kensington, Summerside, Souris, and Montague, we know a thing or two about SUVs. Once you read the following comparison between the two models, contact us for more information.
Comparing Performance and Capability
As far as powertrains are concerned, these two SUVs are nearly identical. Both pack 2.5-litre, four-cylinder engines under their respective hoods, although the 2022 Outlander is paired with a continuously variable transmission as opposed to the RAV4's 8-speed automatic. The new Mitsubishi SUV comes with standard Super All-Wheel Control that maintains optimal traction across all driving surfaces, while the Toyota RAV4 is available in all-wheel drive. Between this feature and its lively handling - the latter earning it no shortage of praise - the new Mitsubishi Outlander boasts one of the most reliable drives in its class. Read on to find out how it compares to the Toyota RAV4 in other categories.
Comparing Fuel Economy
Much like their powertrains, the 2022 Mitsubishi Outlander and Toyota RAV4 are neck-and-neck in fuel efficiency. For starters, both SUVs net under 10 L/100km in the city and 9 L/100km on the highway, meaning they won't do a number on your wallet. And with an identically sized fuel tank to that of the RAV4, the new Outlander can take you just as far on a full tank as one of its category's longest-running competitors.
Comparing Price
Both SUVs' base models come at affordable price points, but their available trims tell a different story. While the RAV4 offers more variations due to its hybrid options, its higher trims land on the pricey side, especially if you're looking to invest in off-roading equipment. Furthermore, the RAV4 has drawn some flack from reviewers over its relatively sparse standard features. The base 2022 Mitsubishi Outlander, on the other hand, boasts enough amenities on both the inside and outside to keep you from splurging on what should come standard. Moreover, its handful of higher trims include various premium upgrades that won't break your bank.
2022 Mitsubishi Outlander - Exterior
2022 Mitsubishi Outlander - Interior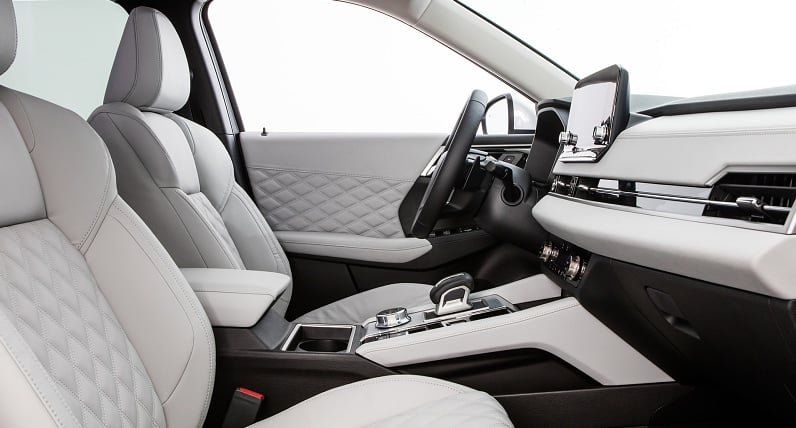 Comparing Interior & Exterior Comparison
This is where the new Mitsubishi Outlander separates itself from the Toyota RAV4 and all its competitors. While the RAV4 has drawn some praise for its design, the Outlander's newly reimagined frame is both muscular and elegant, with a jaw-dropping front grille and unique lighting arrangements enhancing its aesthetic. And with eight available colours and countless accessories to choose from, you can personalize your Outlander like no other vehicle in its class.
The Mitsubishi SUV's interior is just as impressive. Out with the plastics of old, in with the new cloth or leather seating materials and refined cabin. While dated amenities mar the RAV4's interior, features like automatic climate control and front and rear USB ports come standard in the 2022 Outlander. As for infotainment, the base Outlander's user-friendly 8-inch touchscreen is bigger than the RAV4's and occupies an ideal position in a cabin as modern as it is comfortable. And while Toyota's long-running SUV has been praised for its cargo space, the 7-seat Outlander's middle and third rows are foldable to provide all the storage space you'll need, no matter the adventure.
Comparing Safety Features
The Toyota RAV4's safety ratings are good, but its driver-assist functions pale compared to the Mitsubishi Outlander's. Features like Blind Spot Warning and Rear Cross Traffic Alert are absent from the RAV4 base model, but rest assured that the Outlander includes them. The Mitsubishi Crossover lineup also boasts the available MI-PILOT suite, a comprehensive package that allows SUV and driver to act as one. With features like Lane Departure Assist and Traffic Sign Recognition in its arsenal, the Outlander's MI-PILOT system provides motorists with all the confidence they'll need to brave a busy highway or the afternoon rush hour.
Mitsubishi Warranty
The MI-PILOT suite isn't the only thing that will keep you and your vehicle protected. Thanks to Mitsubishi's 10-5-5 warranty plan, you won't ever have to worry about how the new Outlander will perform over the long haul. This comprehensive package covers its powertrain for 10 years or 160,000 km and just about all of its parts for five years or 100,000 km under Mitsubishi's New Vehicle Limited Warranty. As for the other 5 in Mitsubishi's extensive coverage plan, complimentary Roadside Assistance is covered all day, every day for five years with no mileage cap.
For more on how Mitsubishi's 10-5-5 warranty plan can protect your Outlander or any other member of our new inventory, feel free to get in touch with Charlottetown Mitsubishi today.
2022 Mitsubishi Outlander Inventory in Charlottetown, PE