2020 Mitsubishi Outlander PHEV in Charlottetown, PEI

The 2020 Mitsubishi Outlander PHEV for Sale at Charlottetown Mitsubishi
Looking for a good deal on a Mitsubishi around the city of Charlottetown, PE has been made easier. We are the leading Mitsubishi dealer around, having served the residents of the town for many years. We have expanded our service areas to Kensington, Montague, Souris, Summerside, and other nearby areas. Besides, we offer a wide variety of new Mitsubishi vehicles that include the Mitsubishi Outlander PHEV. Visit us to view our new Mitsubishi inventory. You can also complete our online finance application today and get pre-qualified for the model you like, like the popular 2020 Mitsubishi Outlander PHEV.
2020 Mitsubishi Outlander PHEV Trims and Features
Our dealership offers all four trim models of the 2020 Mitsubishi Outlander PHEV for sale in Charlottetown, PE. Each of the trim models has its unique capabilities as outlined below.
The Mitsubishi Outlander PHEV SE S-AWC
It is the basic trim model of the 2020 Mitsubishi Outlander PHEV vehicles. The unit sells like the cheapest trim among all the trims. It comes loaded with; a 2.0-litre DOHC MIVEC 4 cylinder engine, 1-speed transmission, heated front seats for your comfort, and LED headlamps that have auto-on and off capability.
The Mitsubishi Outlander PHEV LE S-AWC
This vehicle is a slightly superior version of the SE S-AWC model. In addition to the basic features of SE S-AWC, the model has equipment for All-Wheel Control (AWC) with options for selecting the drive mode of preference; 2wd, 4wd auto, or 4wd lock. It features a 2.0-litre engine, heated front seats, and auto-off headlamps, like the SE S-AWC trim.
The Mitsubishi Outlander PHEV SEL S-AWC
This trim is an advanced version of the standard LE S-AWC trim. Its unique features include 16-inch Alloy wheels, LED front fog lamps, a Blind Spot Warning (BSW) System, six speakers, and power side-view mirrors that are heated.
The Mitsubishi Outlander PHEV GT S-AWC
This is an advanced trim of the SEL S_AWC model. Besides, the model has a more powerful 2.0-litre DOHC MIVEC 4-cylinder engine and an All-wheel Control (AWC) drive with options for selecting the preferred driving mode. It also has wheel locks.
Mitsubishi Outlander PHEV Exterior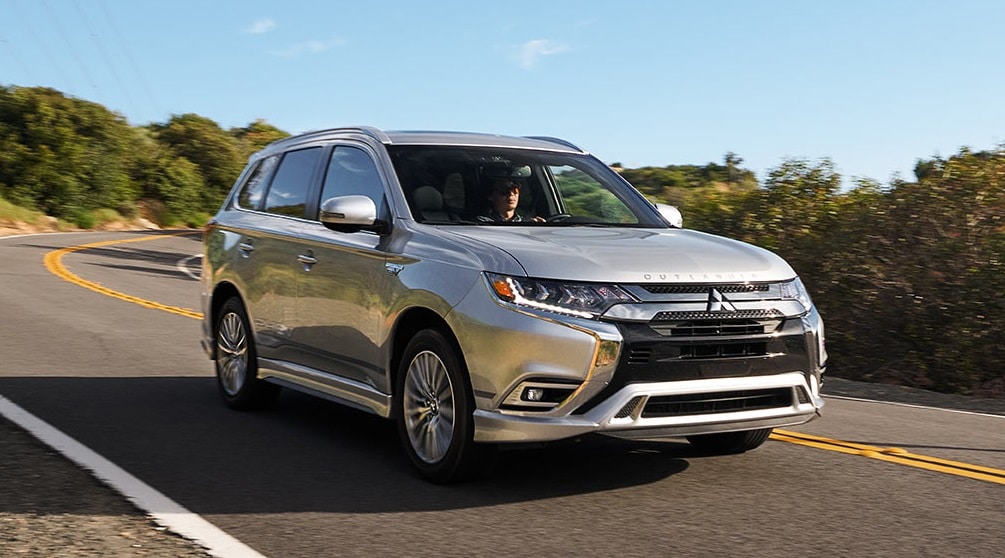 Mitsubishi Outlander PHEV Interior
2020 Mitsubishi Outlander PHEV - Interior and Exterior Features
The Outlander PHEV was designed for the modern and bold driver. The 2020 Mitsubishi exterior features include newly designed LED headlights and fog lights that give the unit a sporty look, complemented by polished front and back bumpers. It gives the vehicle a bold and sophisticated look that is fulfilling to the eye. The exterior is consistently designed with a modern interior. The 2020 Mitsubishi Outlander PHEV interior features include a spacious interior cabin with enough leg and headroom, an 8-inch smartphone touchscreen capable of connecting with both Android Auto and Apple CarPlay, improved fabric design, among others.
2020 Mitsubishi Outlander PHEV - Safety Features
The vehicle was built with your safety and style in mind. It comes fitted with Blind Spot Warning and Lane Change Assist systems that alert you when a car approaches your blind spots. The lane change assist features help alert drivers when they change lane and assist them to get back to their lane. Besides, it comes loaded with a Rear Cross-Traffic Alert system that alerts you to the presence of vehicles or other objects while reversing the car. Forward Collision Mitigation systems (FCM) also acts to prevent collisions on the front by detecting obstacles and automatically reducing your speed to lower the impact of the collision.
Moreover, the 2020 Outlander has an effective Electronic brake-force distribution system and active stability control that take charge of the vehicle speed whenever the driver is at driving conditions likely to lose control. The feature gets further complemented by the brake override system that also plays a critical role in the FCM system.
2020 Mitsubishi Outlander PHEV - Performance Specs
The Outlander PHEV's performance is based on its AWC features. It features a very fuel-efficient 2.0-litre DOHC MIVEC 4-cylinder engine that offers a combined fuel economy of 3.2L/100km combined. The vehicle has a horsepower of 117@4500 rpm and produces 137 pounds of torque. Paddle shifters with regenerative braking systems are also part of the driving performance the 2020 Outlander shares with the drivers. The 2020 Outlander PHEV is Eco friendly as the owners can charge their vehicle on a home power supply with a 240v power socket on a D.C port fitted on the car.
Contact Us to Test Drive
If you are looking for the 2020 Mitsubishi Outlander PHEV for sale in Charlottetown, PE, look no further than our dealership. We equally provide the best after-sales service and customer support in the region. Feel free to contact us to schedule a test drive to get the exclusive outlander experience and make the wise purchase.
The Mitsubishi name and all trademarks are managed by Mitsubishi Auto Canada